Friday is the official start of Readers Studio and every year it opens with a ritual, interviews of the master class instructors and the famous Foundation Reading. The Foundation Reading is what it sounds like: the first reading of the weekend. It is a baseline. You partner up with someone, read for each other and make a record of the reading. Then on Sunday, after you've taken all the classes, you meet back up with this same partner, lay out the same reading and reinterpret it using your newly learned skills.
Rhonda was my partner. She's an amazing person. She did a reading for me and as soon as I saw the cards I got emotional. The 6 of cups reversed, The World reversed, 9 of swords, 2 of cups reversed it was all about losing my dad and the emotional waves and ripples that has sent through my life. Rhonda didn't know about Dad and was trying to find a way to gently ask some questions. I let her off the hook and gave her a synopsis. We were both weepy and agreed that this loss is coloring everything I've been doing for the last few months and will be an influence for months to come. We also agreed that any readings I received all weekend would probably touch this subject. I decided right there to just stick with my few close friends instead of table hopping just to keep from having to share this over and over with new people. I had no trouble reading for other people, which is good or I don' t know how much I would have gotten out of the seminar.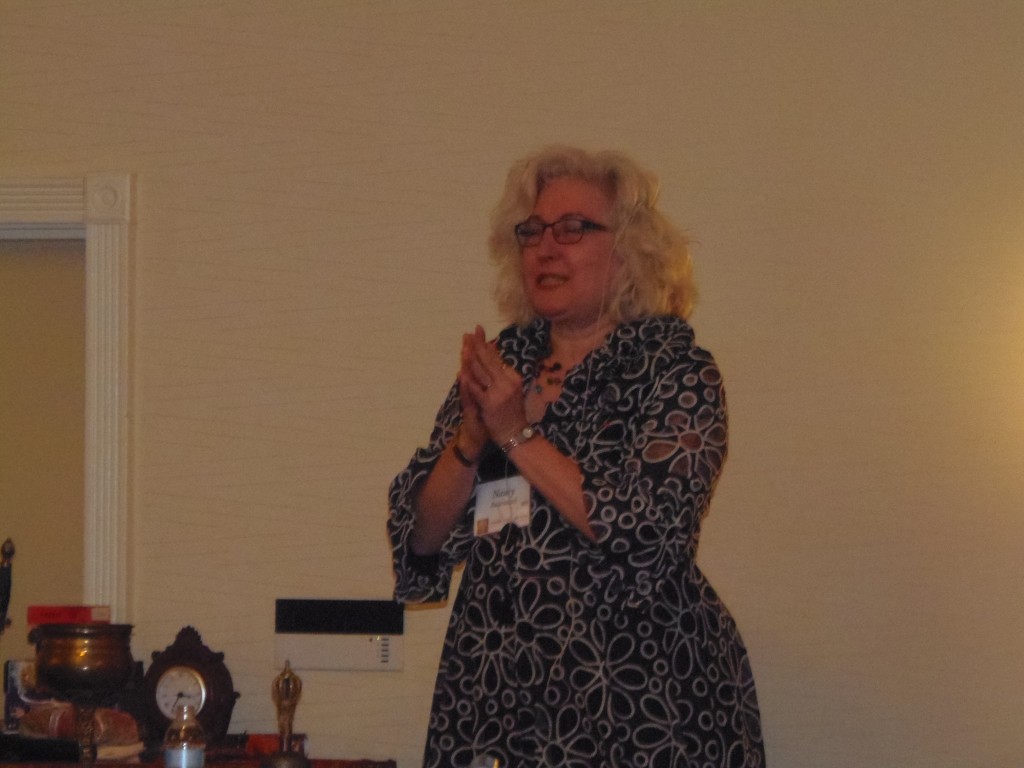 After a lunch buffet on Friday, the lovely and talented Nancy Antenucci took the stage. As you may remember, I love her book, so I was really looking forward to her class. She did not disappoint. We did several exercises to get out of our heads and into the moment. The most interesting for me was when she had us all mill about the ballroom and interact with each other wordlessly. We were to walk around as if everyone was our friend, as if no one was our friend, as if one of these people was the chosen one, as if one of these people had a special message just for us. It was remarkable how differently we responded to each other because of the underlying thinking we were doing.
The quote from Nancy that stuck with me is "Honor the human in you and let it go … for now, so you can go deeper."
Saturday is the busiest day of Readers Studio. There is an optional breakfast class, two master classes, a costume banquet, several evening classes to choose from and the socializing that gets tucked in and around those classes. You could be going from 7am to 11pm before spending hours in the lobby or the bar with your friends.
Major Tom Schick taught the first master class on Saturday. He is a very nice guy, the creator of Major Tom's Tarot of Marseilles, and he knows his stuff. After half an hour in his class I was getting nothing but agitated. Sorry, Tom. I actually packed up my bag and made as quiet and inconspicuous an exit as I could. Other people stayed for the whole class and you can read James Wells' blog about it here. I met up with a few other people and we spent an hour in the readers' lounge doing a Mary K. Greer tarot circle.
After lunch Ferol Humphrey took hold of that ballroom/classroom and didn't let go. Her class was fast paced and kept us on our toes and moving through the cards. We went around the table as quickly as possible finishing sentences like "I accept…/I reject…" We worked at speed and then we went deeper into the cards. I've been a member of her Living Tarot group on Facebook for quite a while and her posts always get me thinking and doing. To do those Living Tarot exercises in person is a much different experience. It's not better or worse; it's a different level.
The banquet was fun, as it always is. There was entertainment provided by the more theatrical and musical members of our group which included some truly funny moments. Then there was Ciro Marchetti's farewell. He is retiring from tarot work after ten years as a deck designer and moving on to other kinds of artwork. He showed a video of his new career in Las Vegas, which was, of course, a joke. He then followed it with this stunning computer generated compilation of his tarot work. I am sorry to see him go. No one tells a bad joke quite the way Ciro does. I wish him and his lovely and patient wife, Maria, all the best.
After the banquet I took a class lead by the amazing James Wells. He had us really get into the cards in a meditative way and we practiced with one card. I chose the Knight of Swords because it had been coming up in readings all weekend. I've been reading tarot on and off for almost thirty years and his class and this practice shifted my perception of the Knight of Swords and the knights in general. It was powerful.
Sunday, the final day of the conference, started with another Breakfast Roundtable discussion. We then met up with our original foundation reading partners and re-read that spread using the new skills we had learned. There was one last round of classes and I chose to learn from Carrie Paris. I've long felt that the online reading experience is lacking something and her class not only addressed this issue and identified exactly what was missing but gave me a bag full of tools and ideas to round out the enterprise and make it more satisfying for both myself and my clients.
There were warm good-byes throughout the day as people left to catch flights home. We were given our certificates and had some great conversations over lunch and during the more unstructured afternoon. At one point we were talking to Barbara Moore and she handed me a copy of her soon to be release Book of Shadows: So Below  tarot deck as a gift. It's a very nice companion to the first volume Book of Shadows: As Above. After I have played with it a bit I'll post a full review here.
All in all it was great. I have yet to come away from Readers Studio feeling like I wasted my time and money. Quite the contrary. It's wonderful energy to soak in all weekend and now, a week and half later, I'm still processing it all. And yes, I'll be going back next year.