I took an online class the other night with Briana Saussy about prayer and blessings. She spoke about the nature of prayer and it's expression in the many different faiths and religions of the world. As she was speaking and explaining prayer I was remembering my own experiences and how my current expression of the practice is completely different from what I was taught as a child.
I was raised Roman Catholic. I remember being taught basic prayers as a child and having a hard time with them. I had a hard time remembering the exact wording and in religious education class, in Catholic school, that mattered as did the proper placement of commas and capitalization. I don't know if the teachers thought it mattered or if they were mixing a grammar lesson into our religion class. What I do know is that it sent the message that there is one right way to pray and it is complicated. There was also a threat in there that doing it wrong would put you in disfavor with God.
That didn't make any sense to me.
I exasperated more than one teacher/priest/sister with questions about prayer and God. Very few of them took the time to give me a thoughtful answer. Most of the time I was shushed or given a pat, dismissive answer that didn't satisfy me.
"If God is the father, who is the mother?"
"If I'm a child of God why can't I just talk to Him?"
"If God is so powerful that he created everything why is he so angry with his creation? Couldn't He just do it over again?"
Shhhh!
By the time I got to high school I was adept at tuning out of religion class. I knew I wasn't going to learn anything new because the previous years had all been a rehash of each other. I also had given up any hope that my questions would be properly answered. I paid enough attention to be able to parrot back the information on a test. The rest of the time I doodled, counted ceiling tiles or watched the critters outside the classroom window.
I distinctly remember one day watching the squirrels play on the school grounds and Sister So-and-so was having us recite a particularly obsequious prayer. The tone of that prayer always annoyed me; still does. I remember thinking that it must irritate God to hear this drivel. If someone were to talk to me, ask me for something, even just to thank me and they did it in this toadying manner I would be disgusted by them. I have always wanted people to stand up in themselves, face me square on and have a respectful conversation. At the time I remember thinking I was only a fourteen year old girl, if it irritated me to be spoken to that way what must it be like to be God. What must it be like to be the creator of heaven and earth, and have people speak to you this way all the time. It felt manipulative and insincere. It felt wrong and insulting. Then and there I stopped doing it.
I played along for the rest of my school career; the grades mattered. In my private moments I had conversations with God instead of reciting rote prayers. When I was sitting in church I played along there too but I was actually meditating and observing. The ritual and space are meaningful and when I studied the practice of ritual and sacred space I learned a new appreciation for the Catholic Mass, but the experience of going to mass as a child and teen was always hollow. As I got older it became harder and harder to pretend there was anything there that connected me to the Divine. It actually interfered with my experience of God and by the time I graduated high school I understood why that was:
They had made God too small.
The God I was introduced to as a child served a purpose for the child and the Church. As I grew and matured the explanations of God did not grow and mature with me so I left them behind and sought my own answers. The God I've experienced since is so much bigger than I can explain and the prayers of childhood are even more woefully inadequate. During Bri's class the other night she included my favorite quote from Kierkegaard:
"The function of prayer is not to influence God, but rather to change the nature of the one who prays."
I have found that the most profound and sincere prayer is one of gratitude. We go through life taking things for granted that are, in fact, quite miraculous. The gratitude doesn't even need to be directed to a deity for it to transform you. It's the mindset and practice of gratitude that does the work.
The way I recommend starting when I am asked by friends and clients is a simple walking meditation. There is no heavy preparation needed. There is no limit on the time spent doing this. It is actually a simple, straight forward activity that becomes meditative in the doing of it.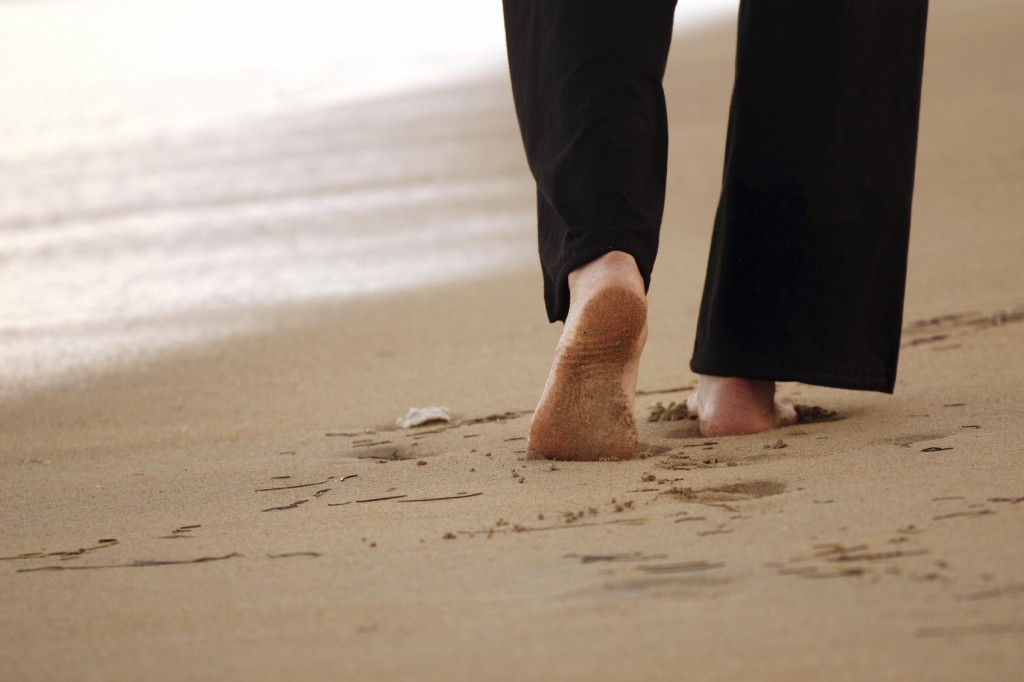 It's walking.
It's walking with a purpose.
With each foot strike you alternately say "Thank" and "you"; left foot "Thank", right foot "you" or vice versa. Do this from your car to your morning train; while walking to get the mail; while looking for groceries; while taking your dog out for a stroll.  Do it deliberately as part of your daily exercise. Do it for a week and see what changes it makes for you.
May 2015 be a healthy and happy year for you.