I'm home now and reflecting back on this weekend. It is absolutely amazing how much gets crammed into those few days. This is why I keep coming back year after year.
Readers Studio is much more than just the three master classes. It is a tribal gathering, a family reunion, an immersive education experience, and most of all a validation. To be in a room with nearly 200 people who share your passion and drive is to find your place in the world. We all come to tarot from different perspectives but that doesn't matter. There is an acceptance of your experience and viewpoint as valid just because it is yours. There is nothing to compare to that energy. Everyone is open to learning from everyone else. You may have the most intense moments of the weekend while on line for the lunch buffet. Every year there are insights shared and perspective shifts occurring at the most random moments. It is absolutely wonderful!
I arrived on Wednesday shortly before lunchtime, checked into my room and promptly took a nap. I had a mild headache for no good reason I could find and the nap should have made it go away. It mostly did. I met a friend for dinner in the bar and slowly the evening took shape. Another friend joined us and we met another in the lobby. All four of us had headaches of varying degrees and decided a tea party in my room was a good idea. Tea, chocolate and conversation with good friends: a great way to start the conference.
Four tarot readers walk into a hotel room…sounds like the beginning of a joke doesn't it. We did eventually pull out a deck and start throwing cards for various things. What is up with the world right now? What is our place in it? What is the theme for this year's conference for us? The Wildwood Tarot had some interesting things to say.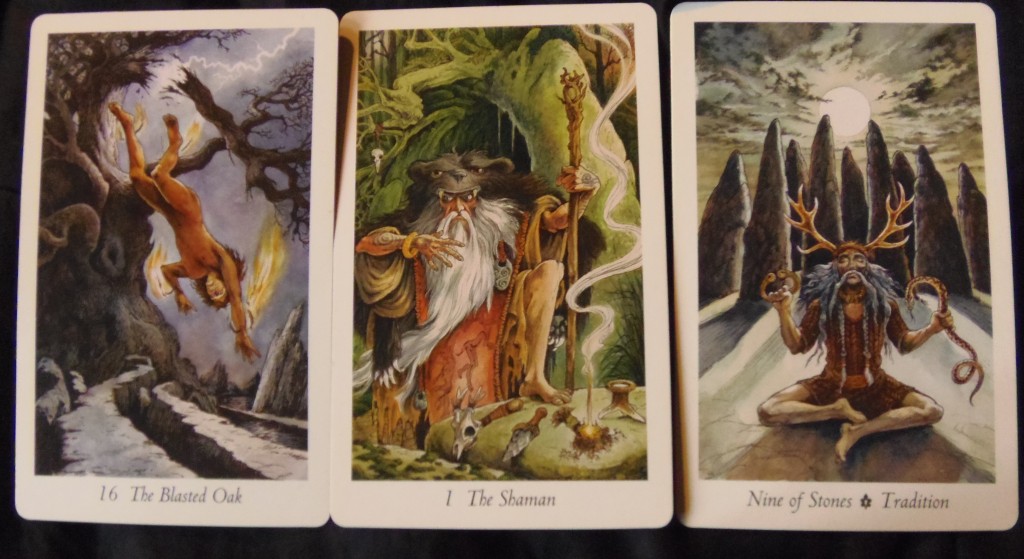 We had a lot of fun discussing this. It's a bit rattling to see The Blasted Oak which in this deck is a combination of The Tower and The Hanged Man. To us it said that the world is being forced to change and many folks are having to look at things from a new point of view. The Shaman represented our part in it. We are supposed to hold space for the change without getting caught up in it.* Our purpose is to help people navigate the shifts in their lives. Nine of Stones is the eventual coming to peace with it all. Getting back to what is really important.
Nancy asked what we could expect from the Readers Studio this year and we pulled The Great Bear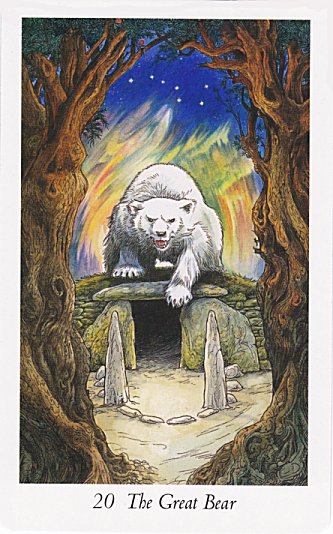 This is Judgment in the Wildwood Tarot but the first reaction we had was protection, bravery, and a fierce guardian energy. Again it signified to us the holding space for the change and guiding and protecting as we navigate the shifts. There is also something sacred and exclusive about that doorway and not everyone gets to go in there. We were entering sacred space for us and we'd be protected and guarded while we were there.
We drank tea, ate chocolate, talked, laughed and gently eased ourselves into Readers Studio.
*(After Saturday's class Ferol Humphrey posted a status on Facebook and referred to the people who took her class at Readers Studio as those who "hold the edges of the world for us."  My first thought on seeing that was this impromptu reading.)